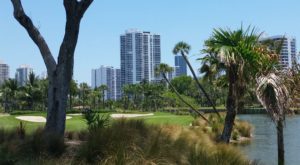 Since the first construction of Florida golf courses in 1886, developers and municipal governments have built golf courses to entice both homebuyers and tourists to communities in Florida.  Despite Florida's population surpassing 21 million, the sport has drastically declined in the past decade. Although there are more than 1,000 golf courses in Florida – almost 200 of them in South Florida – golf courses have become the next frontier for development.
South Florida will soon be seeing a boom in new real estate as several developers have bought out struggling local golf courses to acquire its land. One Miami-based company has acquired at least three courses in South Florida that will be converted into residential communities – sans the golf experience. In addition to real estate, one golf course in Miami is even being considered for a new Major League Soccer stadium.
Many consider Palm Beach County as the "Golf Capital" of Florida with its abundance of golf courses and a high number of golf professionals who call it home. Although the majority of golf courses in the county are safe from developers for now, this growing trend has stirred much discussion.
While developers are finding new ways to lure buyers to communities without the golf appeal, private golf clubs are preparing for a fresh wave of members in search of a new home. Anyone interested in buying or selling their home within a golf course property should speak to a real estate agent familiar with the movement in this industry.