FOURTH OF JULY CELEBRATIONS
The fourth of July is surely one of the most exciting holidays in town! Whether it be on the day of or over the weekend, almost every city in Palm Beach County hosts some sort of celebration.
Here are just a few of my favorite picks for celebrating America's birthday!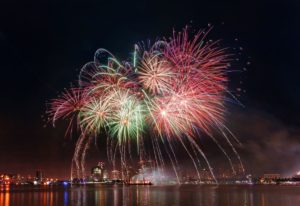 Fourth on Flagler – Celebrating 30 years, the city of West Palm Beach will host a special extravaganza featuring a performance from The Air National Guard Band of the South, a 45-member military music ensemble and a dynamic water show. This event boasts 3 stages of entertainment, a military honor ceremony, an air-conditioned arcade and almost 20 minutes worth of fireworks! The fun starts at 5pm at the east end of Clematis Street and is free to the public.
Downtown Abacoa's Block Party on Town Center Drive celebrates the fourth with specials from the local restaurants and shops, as well as games, kid's activities and a Kenny Chesney cover band! The fun starts at 4:30pm and goes until 7pm.  Roger Dean Stadium will have fireworks at 9pm for all to enjoy!
Harbourside in Jupiter – Enjoy an evening on the waterfront in Jupiter with live music with Jimmy Buffett Tribute Band, kids' activities, vendors and of course – fireworks! The fun starts at 4:30pm and fireworks begin at 9pm.
Roger Dean Stadium MEGA Bash – Two days of a grand celebration at the ballpark! Tuesday and Wednesday, July 3rd and 4th, the ballpark will be the perfect place for a night of fun for the whole family.  There will be fireworks, a kid's area and great minor league baseball action. The games start at 6pm and fireworks are at 9pm. Downtown Abacoa will also be holding its block party on the afternoon of the 4th leading up to the game and fireworks!
4th of July Flying Over Flagler Park – Hosted by the City of Stuart and Stuart Air Show, this is an evening filled with aerobatic performances, pilot meet-and-greet, fireworks, and much more! The day starts at 12pm with food and fun for all, followed by 3 incredible performers shooting through our skies starting at 6pm followed by spectacular fireworks.